To demonstrate design output in the context of a project, this page contains layouts/plans/boards, 'before', 'in-process', and 'after' pictures of a recent project located on the Bay Area peninsula.
This project scope was to initially develop a kitchen layout plan, and an optimal entry.  Ultimately, it expanded to include lighting, window treatments, and furnishing.  Several 'before' pictures are shown.  The clients had fun with demo before I arrived, but the original galley kitchen placement is visible, louvered windows, AC unit fixed into a plywood panel, and dividing walls.
I loved the midcentury window design, and the brick surround fireplace.  For a home otherwise lacking architectural detail, it was important to retain and emphasize these elements.  The clients also desired an open layout.  The original kitchen window was extended and framed to match the entry window style, and kitchen cabinetry specified and exact appliances placed to assure an optimal layout.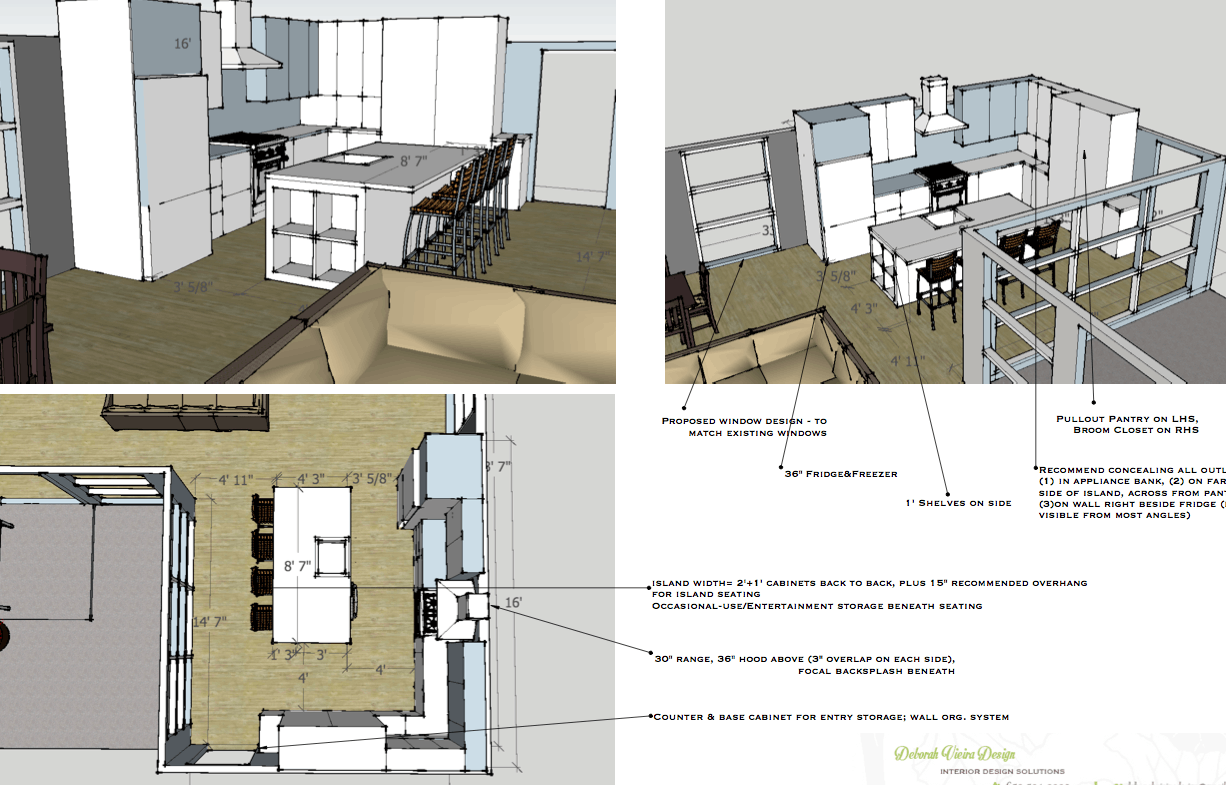 Lighting was specified based on wattage calculations, the client's selected fixtures, and recessed lighting to provide ambient light.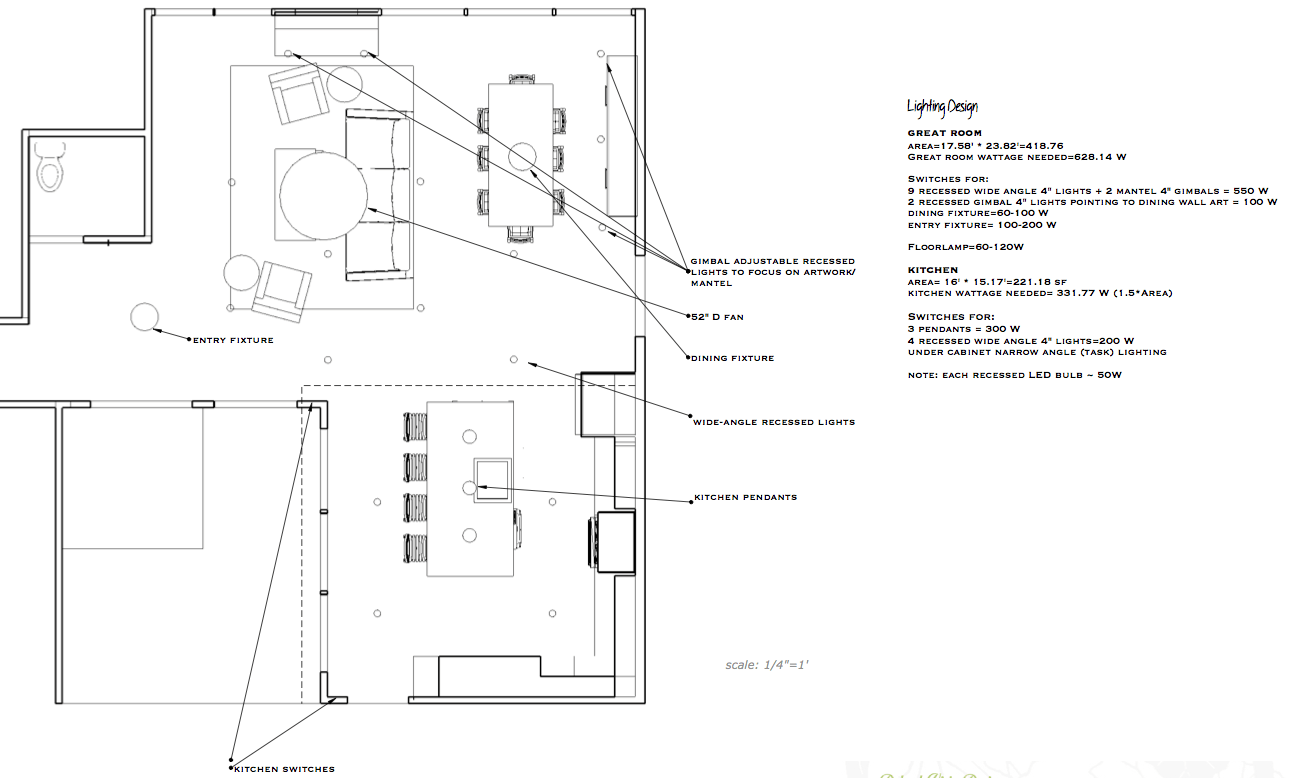 Below, the furnishing plan, aligned with lighting, showing a two chair + sofa layout for the great room.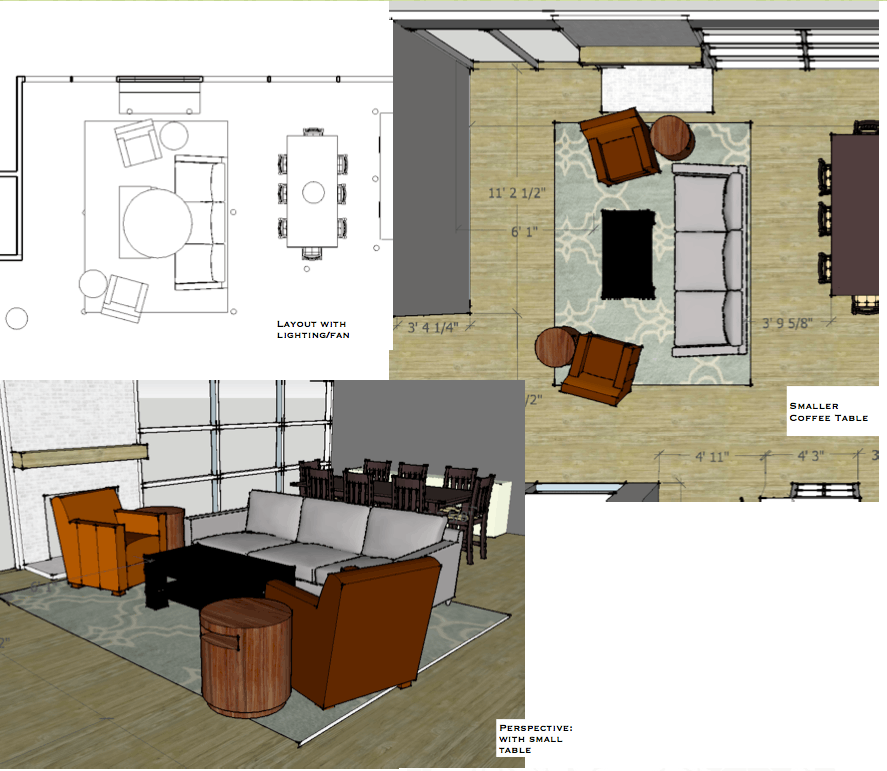 Furnishing board for great room.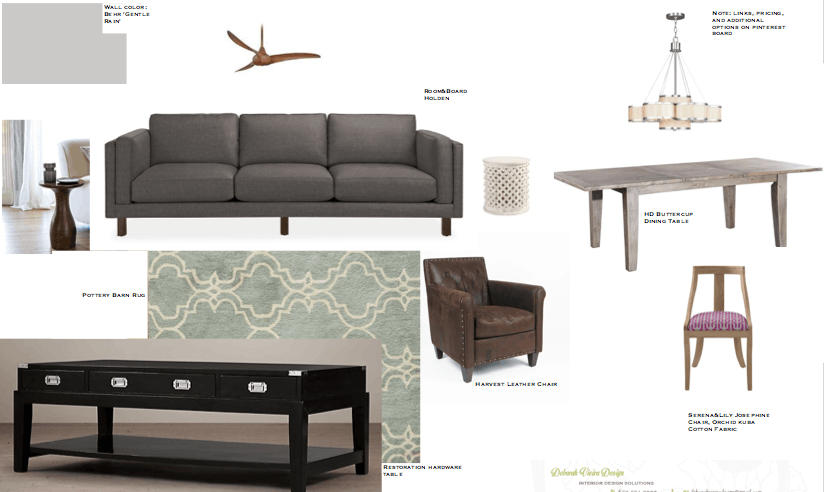 Before: the front door opened to a wall four feet away.  This was one of the first and most dramatic changes made in the project.
In process: Guests can now breathe after they enter, and the rear bedrooms can be accessed with the front door ajar!  Entry remains to be completed with rug and decor.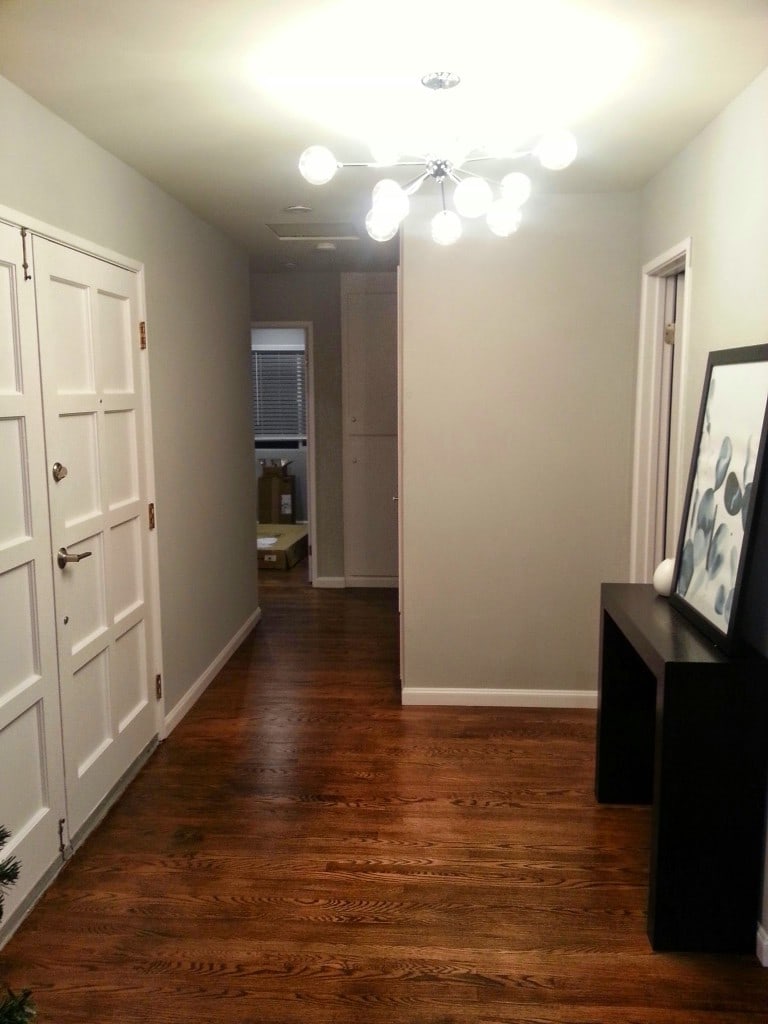 Before: popcorn ceiling, dingy drapes, drafty windows, and old carpet.
In process:  Original oak floors were exposed and refinished, recessed and light fixtures placed, and kitchen shifted to the earlier dining room area.  The brick fireplace remains to be scrubbed, painted white, and completed with a floated reclaimed wood mantel.  In this picture, curtains were being considered, and still need to be selected and mounted.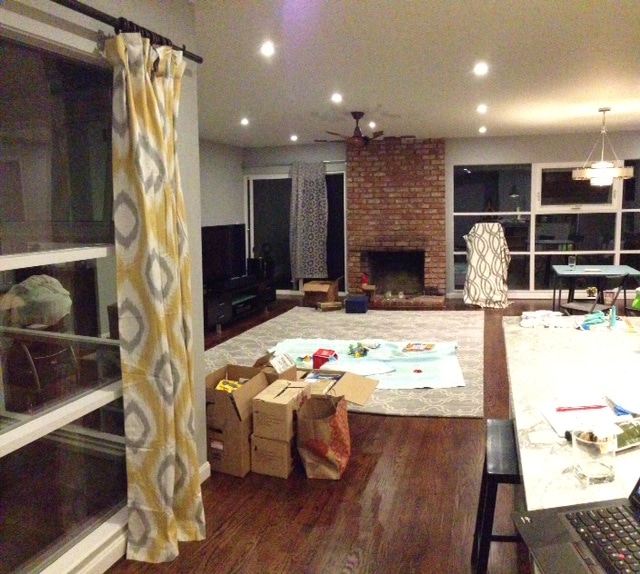 After: Curtains, sofa, seating cubes (that reside beneath console table when not in use), decor, and dining furniture in place.  Fireplace cleaned, painted, and reclaimed redwood mantel installed.  Coffee table, arm chairs and tables remain to be selected.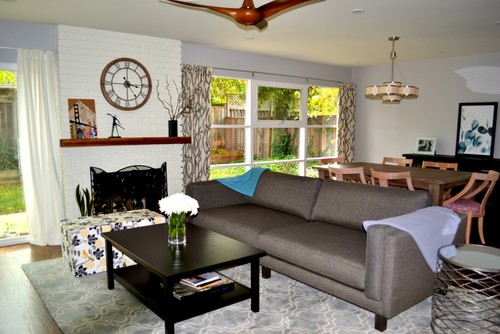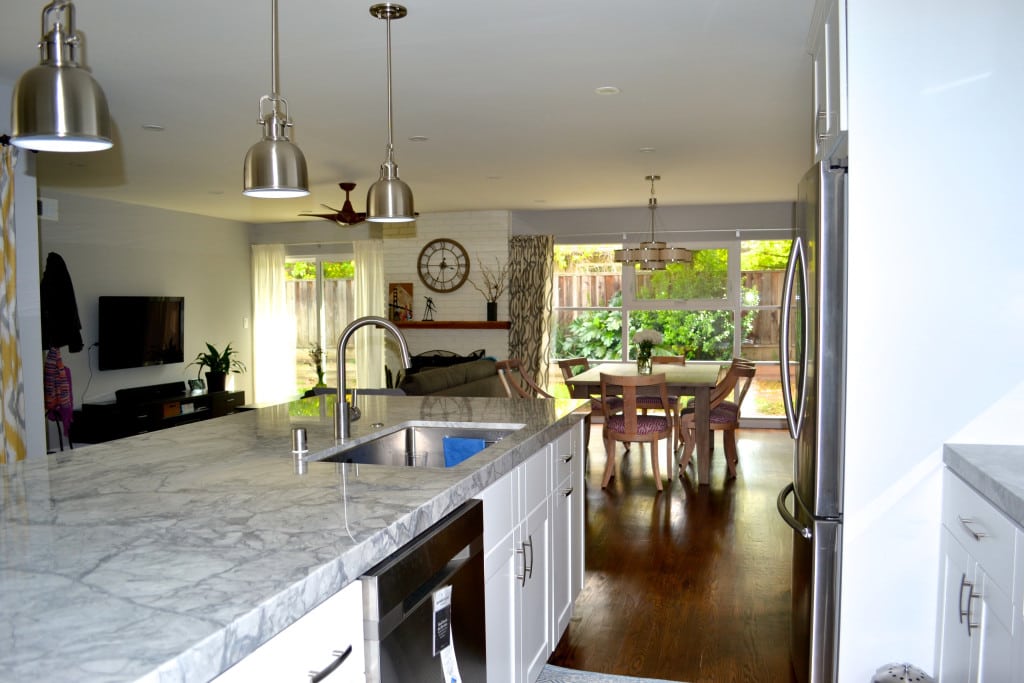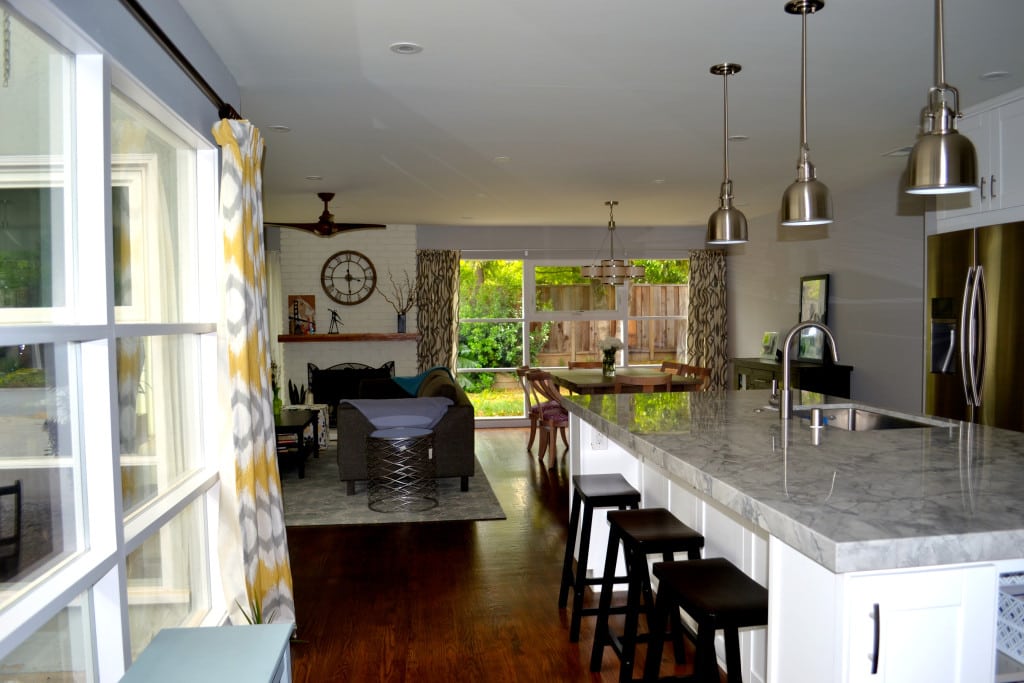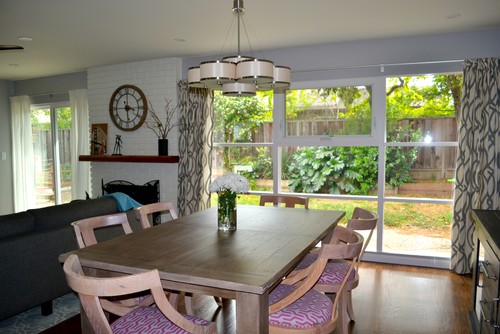 Before: A view of the kitchen and family room
In process: Kitchen mostly completed, except for shelves and exposed interior cabinets to be painted.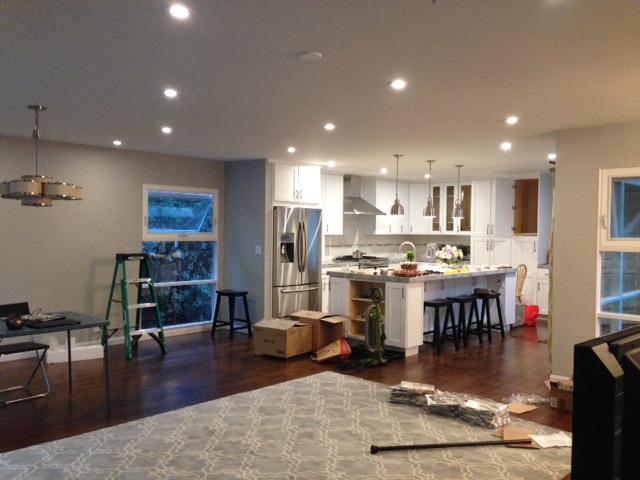 With furnishings: