The kitchen is the most important part of a home — where we gather, cook, eat, and connect.  It is also one of the biggest sore spots for homeowners, as any design flaw can prove a major frustration.  Whether it is a fridge door that hits a perpendicular wall, appliance and cabinet doors that collide, an overflowing pantry, or everyday traffic jams in a tight galley, these details ruin a picture-perfect design in practice.  Finding the perfect position for every cabinet, surface, and appliance can prove a riddle.  When going through the design process, every single kitchen, whether new construction or a remodel, will confront major constraints from every direction if the design is carefully approached and orchestrated to ensure a perfect solution and 'fit' for the home.  I address these with frequent communication and reliance on visuals, gathering fidelity and detail as the kitchen evolves from inspiration to rough idea to a permit-ready layout with appliance and cabinetry dimensions, lighting and material specifications.  Beyond the nitty gritty, the most important part of the 'solution' is the client, and understanding their lifestyle, tastes, current and future family needs, along with the larger aesthetic of the home.
Below, a snippet of a kitchen cabinetry plan.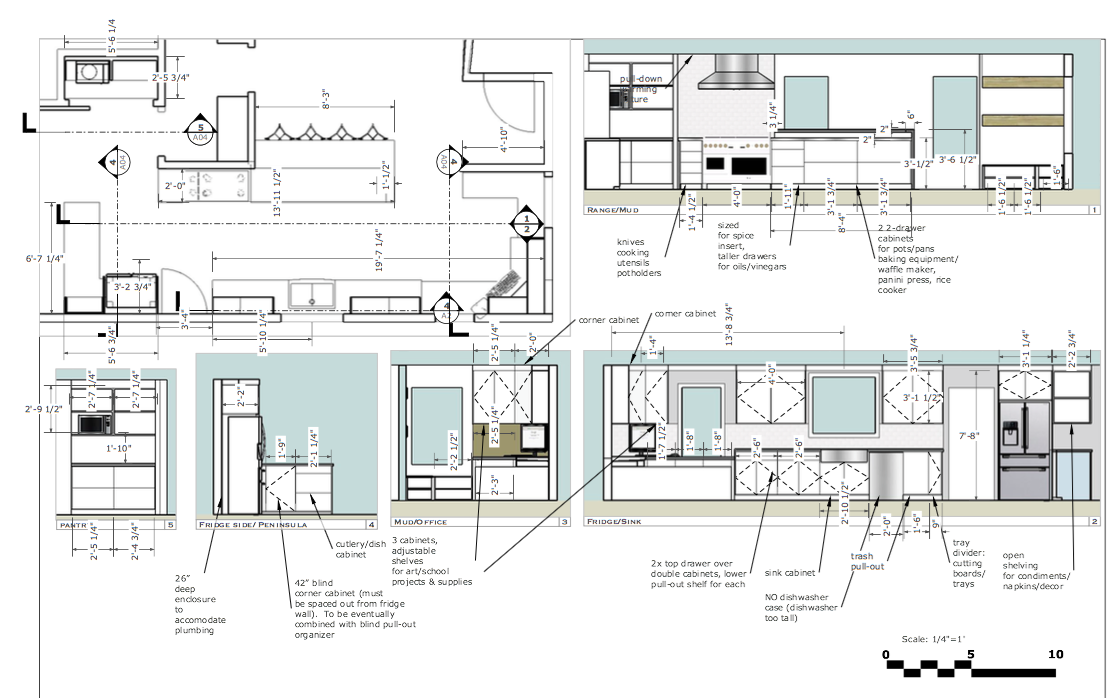 Some examples of my kitchen design work are below.
'After', San Carlos Courtyard Kitchen