This Sunday's SF Chronicle mentioned a new site, decorist.com, that has an interior design profiling quiz… I gave it a try tonight, and was impressed by the quiz design.  The quiz has you visually select from the classic elements of a living room: couch, coffee table, side table, lamp, mirror, rug, and wall color.  As you browse through all the options, those selected are added to a pretend room.  It's fun, although I can't say I chose my 'favorite' pieces, but rather had a good time choosing different options to see how they'd work together.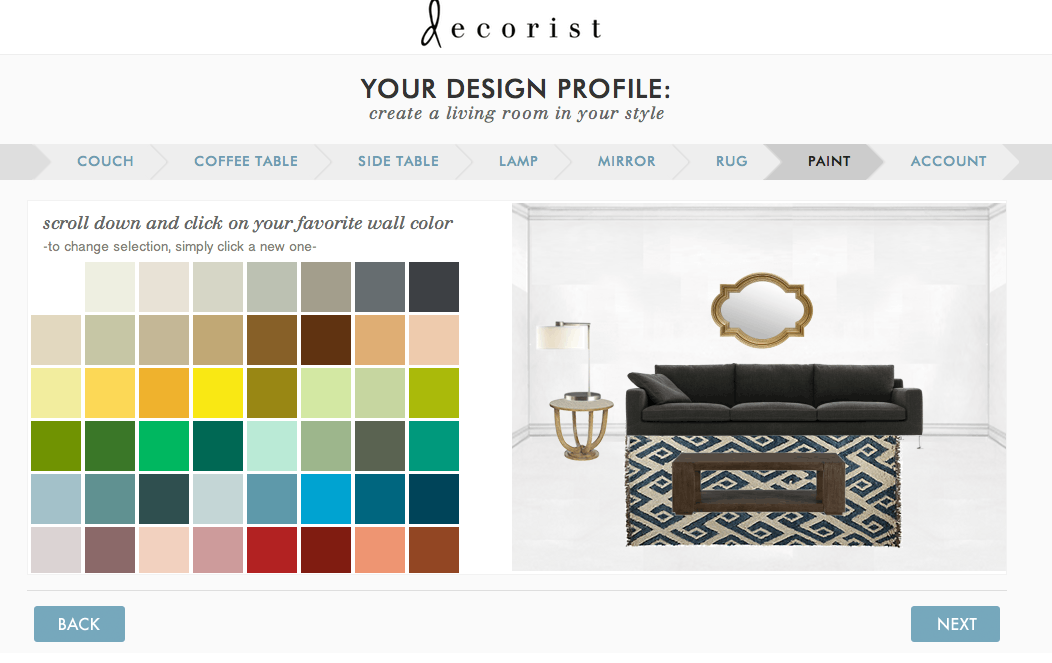 When I was done trying stuff out, the site generated a 'profile' as follows, which impressed me as an accurate read on my selections.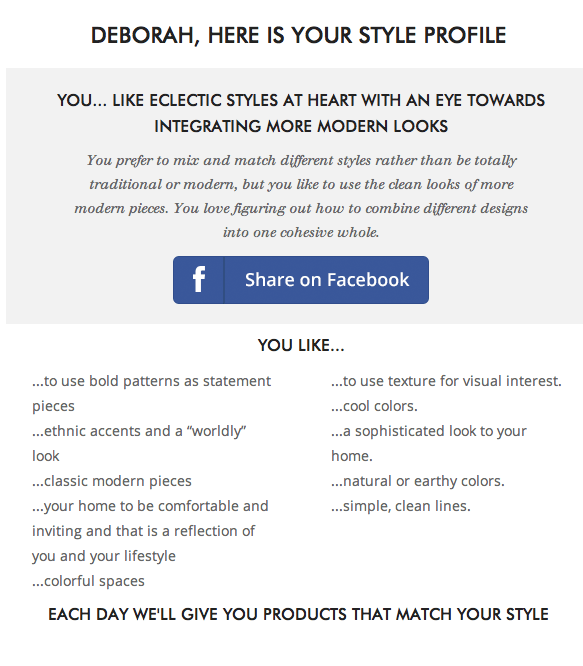 From there, you are directed to your dashboard, where you can see a list of items filtered to your tastes — which in my case, wasn't exactly accurate due to my design play during the quiz, but I was happy enough with its determination, and was certainly intrigued by what items would be suggested.  You also were asked to specify your price range for a sofa, which presumably is used to then filter recommendations by cost as well — interesting idea.  This page was a huge scroll, but had a nice layout and form, and could be filtered by category.  I like that it pulls from a broad resource set, including flash sites like OneKingsLane and unique stuff selling on EBay, and it did have a great range of interesting pieces, along with some weird stuff that if nothing else was fun to see.  Sort of pinterest-style eye candy.
For folks looking for small, targeted help with a specific room in their home, their 'mini-makeover' option seems like a good deal.  You get several room boards and a shopping list, in response to uploaded pictures and your notes on challenges and hopes for the space.  I think this would be perfect for a home shopper that needs a little aesthetic push in the right direction.